Union expresses shock as review initiated by Bank governor Mark Carney focuses cuts on IT and HR staff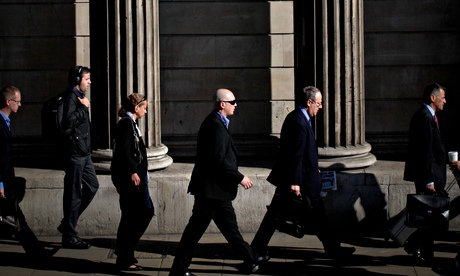 Pedestrians and workers outside the Bank of England. The Bank says it 'envisages between 80 and 100 redundancies'. Photograph: Bloomberg/Getty
The Bank of England has announced its biggest jobs cull for more than a decade, with 100 positions to go as part of an efficiency drive.
The "value for money review", which was launched shortly after Mark Carney arrived as governor last year, puts as many as 125 jobs at risk, including those of IT and human resources employees. Their union,Unite, said the announcement would come as a shock to employees and it vowed to fight compulsory redundancies.
The cuts from the support division are part of savings of £18m identified by the Bank and consultants Deloitte. It has also suggested other changes to cut costs at Threadneedle Street, such as reducing colour printing.
In a statement, the Bank said its review was aimed at make the support division more efficient and to allow more resources to be devoted to its expanded range of responsibilities. "The changes will provide new opportunities for some staff, as they will move to new roles in the organisation. A number of other jobs will not be filled as staff retire or move on. It is, however, envisaged that there will be between 80 and 100 redundancies, subject to staff consultation. The Bank is working closely with the Bank's union to ensure that affected staff will receive support to find alternative employment," it said.
The Bank employs just over 3,600 staff, of whom about 1,000 work in the support division, which covers roles such as IT, HR and property procurement. The last time it made job cuts on a similar scale was in 2001-2002, when there were nearly 100 redundancies.
Unite said the announcement capped off a gloomy week. Dominic Hook, a national officer said: "Barely a day has passed this week without an employer in the finance sector announcing cuts to its vital staff. It has been a dismal week for workers across the industry.
"The Bank of England should be setting an example to other banks, not behaving in the same imprudent manner that others have been.
"This constant insecurity across the financial services industry is extremely damaging for the staff, who continue to work under the hardest of conditions."
The news follows the announcement from Barclays that hundreds of jobs are being lost there under changes to its corporate banking division.
About 400 posts will go, and Unite said a further 120 were being placed at risk this year.
Lloyds Banking Group announced 1,080 job losses across its retail, risk, operations and commercial banking divisions this week. The latest cuts at Lloyds are part of 15,000 redundancies announced by António Horta-Osório when he took the top job three years ago.
http://www.theguardian.com/business/2014/jan/31/bank-of-england-cuts-100-jobs